Whether it's 200 km or 6,000 km, distance between loved ones can make or break a relationship. Some couples stay strong in their connection and maintain the relationship, while others decide to call it quits.
Whatever the situation, long distance relationships take a lot of work. Both partners must have a mutual understanding of that work.
If you are in a long distance relationship and want to make it work, you need three things: communication, trust and shared goals. Here's how to use those tools to make your love last.
Like any relationship, communication needs to be good. With long distance relationships, talking is all you've got.
"Communicating through your words is going to be really important in a long distance relationship because you can't turn your back on them and notice that they are frustrated," Katie Dinner, a life coach at Kimberly Moffit Associates (KMA), said.
Todd Jacobs* and Larissa Brown* learned this first hand. When they met, Todd was living in Amaranth, Ont. and Larissa was living in St.Thomas, Ont. – about a three-hour drive with good traffic. The two met in the summer of 2016 at camp.
One of their biggest issues was communicating openly. They texted throughout the day and FaceTimed at night, but they didn't have any conversations about things that were important to them or their relationship.
Once, Todd lied to Larissa about why he couldn't visit her for the weekend. His parents were very Christian and weren't fond of Larissa. "I think I would have tried a little harder to get my parents to see what I saw in her, considering they were in control of when I got to see her," Todd said. He also could have been more open communicating to Larissa. As a result, she was upset, which may have been a factor in the couple's breakup.
Ryan Stevenson* and Olivia Lenard* have had their share of spats during their time apart. Ryan and Olivia have been dating for two years, and in September 2018, Olivia moved to Ireland for Mohawk's mechanical engineering program. They have spent some apart while Ryan was completing a co-op placement in Stratford, Ont., in 2017, but being in a completely different country was more of an adjustment.
"Most of [our issues] are communication issues," Ryan said. "I know this past month, I have been busy so I don't FaceTime her as much. But we had a huge discussion one night about how we both need to put in more of an effort to make this work." Having those discussions are crucial in long distance relationships.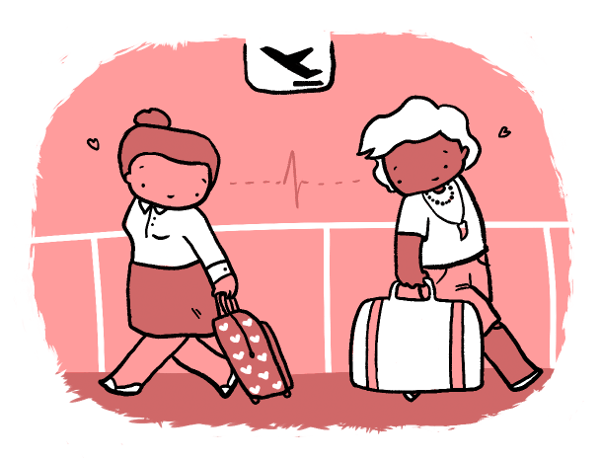 "The common mistakes people make in long distance relationships are attempting to read your partner's mind," Dinner said. "Don't do it, just ask!"
A love for long distance relationship is nothing without trust
Trust is another crucial part of any relationship.
"If you don't trust your partner, yourself or your relationship, it can eat you up inside and negative thoughts can consume you if you allow it," Dinner said.
Trust doesn't just happen – it takes time to build. For Ryan and Olivia, the year they were together before separating helped them trust each other despite the distance.
"If you are going to do it (long distance), I would recommend doing it after a year or so of being together when you know the person and you actually want to see them after," Paul said.
It's not always that simple though. Todd and Larissa met in the summer, and had to part in September.
"I guess we had to learn how to trust each other more, and it helped us both understand the importance of trust and communication within a relationship," Todd said. "With that, I know she drank often in school and liked to party with friends, so knowing she was doing that did make trusting her a little more difficult." Communicating often, as well as talking about your future, will help build trust in the relationship and keep a couple strong, no matter the distance.
Creating common goals
Setting goals is a motivator in any relationship, but for long-distance couples, setting common goals like buying a house together or taking a trip together helps keep the connection strong.
"You have to have something to hold onto," Ryan said.
One of the benefits of long distance relationships is the time you have to work on yourself. While creating your own personal goals, things you want as a couple may start to shift.
"Be patient and keep discussing your future plans whenever it's appropriate," Dinner said. "Talk about the important stuff and see where you two align on your paths."
To make long-distance relationships work, communication, trust and common goals need to be present. It doesn't hurt to have a mutual understanding of the effort that needs to be put into the relationship either. And, of course, you simply have to agree you're in it for the long haul.
"Have faith and trust in the process and relationship," Dinner said.
Also don't forget to check out the ultimate guide for long distance lovers